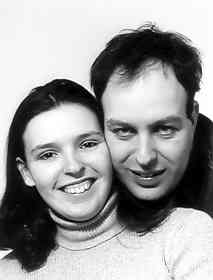 My name is Erwin Pellegrom, and I'm on this picture with my wife Wilma. Wilma is a teacher on a special-eduction school and I work as system-/programcontroller at Quantore, the biggest purchase-organisation in The Netherlands in officesupplies.

We've met at the ballooning-fiŽsta in Barneveld, The Netherlands (in 2000) where we worked as building-volunteers. In 2001 Wilma moved in with me and we are now married ( for years).

On 17 september 2004 our son Mark was born. And on 20 december 2010 another son was born, Rik.
&nbsp&nbsp&nbsp&nbsp&nbsp&nbsp&nbsp&nbsp&nbsp&nbsp&nbsp&nbsp&nbsp&nbsp&nbsp&nbsp&nbsp&nbsp&nbsp&nbsp&nbsp&nbsp&nbsp&nbsp&nbsp&nbsp&nbsp&nbsp&nbsp&nbsp&nbsp&nbsp&nbsp&nbsp >>> Click on Mark's or Rik's picture to go to there own photo-album >>> Our biggest hobby is, you've guessed it, hot-air ballooning. Beside our work as volunteers at the balloonfiŽsta we are both enthusiastic crew-members of the Marberts ballonteam and on 26 sep 2002 I myself became a balloon-pilot. When we found out that Wilma also was interested in another hobby of mine, namely stamp-collecting, a new hobby was born. The collecting of stamps with gas- and/or hot-air balloons. By now this collection has grown quite a bit. We now also collect other items like books and coins.

There are two reasons for the making of this site. First, we want to find out if there are more people who share this hobby with us and how much we're still missing (we think a lot). The reason why we are doing this on the internet is the second reason: I like, as a beginner, to play a bit with HTML.

The theme of our collection is very wide. We primairly collect gas- and/or hot-air balloons, but also other 'lighter then air'-ships are in our collection. When there's a series with one or more stamps from our theme we try to collect the complete series. Therefore you'll find - for example - also Transportation-series.

Your comments are welcome in our guestbook or by Email to info@ballonpostzegels.nl
Tip: How is this site best viewed?



Have fun on our site!